Monitoring West-African cattle herders
Action Contre la Faim (ACF) is an international humanitarian aid organization with operations in 50 countries with a focus on Food Security, Nutrition, Water/Sanitation and Advocacy. Since 2007, the organisation has been monitoring the resources of cattle herders (pastoralists) in West Africa. The food security of this population is highly dependent on livelihood shocks and the loss of their herds. With natural biomass as the only source of forage for their cattle, these pastoralists are particularly vulnerable to drought.

These herders represent 30% of the population in Sahelian Countries, contribute up to 40% of agricultural GDP and handle between 70 and 90% of the Sahelian livestock. These herds are a critical source of income and protein for local populations. When droughts hit, the pastoralists are often the first to be affected, but the impact is quickly spread to the rest of the population



From EO data to humanitarian response

ACF uses PROBA-V based products, provided by the Copernicus Global Land Service, such as NDVI, Dry Matter Productivity (DMP) and Small Water Bodies (SWB). These images serve as input for added value products generated by data integration software developed by ACF. The "BioGenerator" uses PROBA-V's DMP and NDVI to create annual biomass data. Surface water datasets on the other hand are created with another tool called, "HydroGenerator".

Thanks to the annual biomass data we can isolate areas of drought after the Sahelian rainy season (July-September). This means that we have 6 months to prepare for the places that will be the most affected by drought. Between the period of October-March, natural resources produced by the rainy season (pasture and water) will dry up and cattle herds will move to find these resources. If we know ahead of time which areas are going to be the worst hit, we can prepare humanitarian response and assist the herders for various purposes such as:
veterinary care
distributions of cash or animal feed
destocking and restocking of herds
water provision
...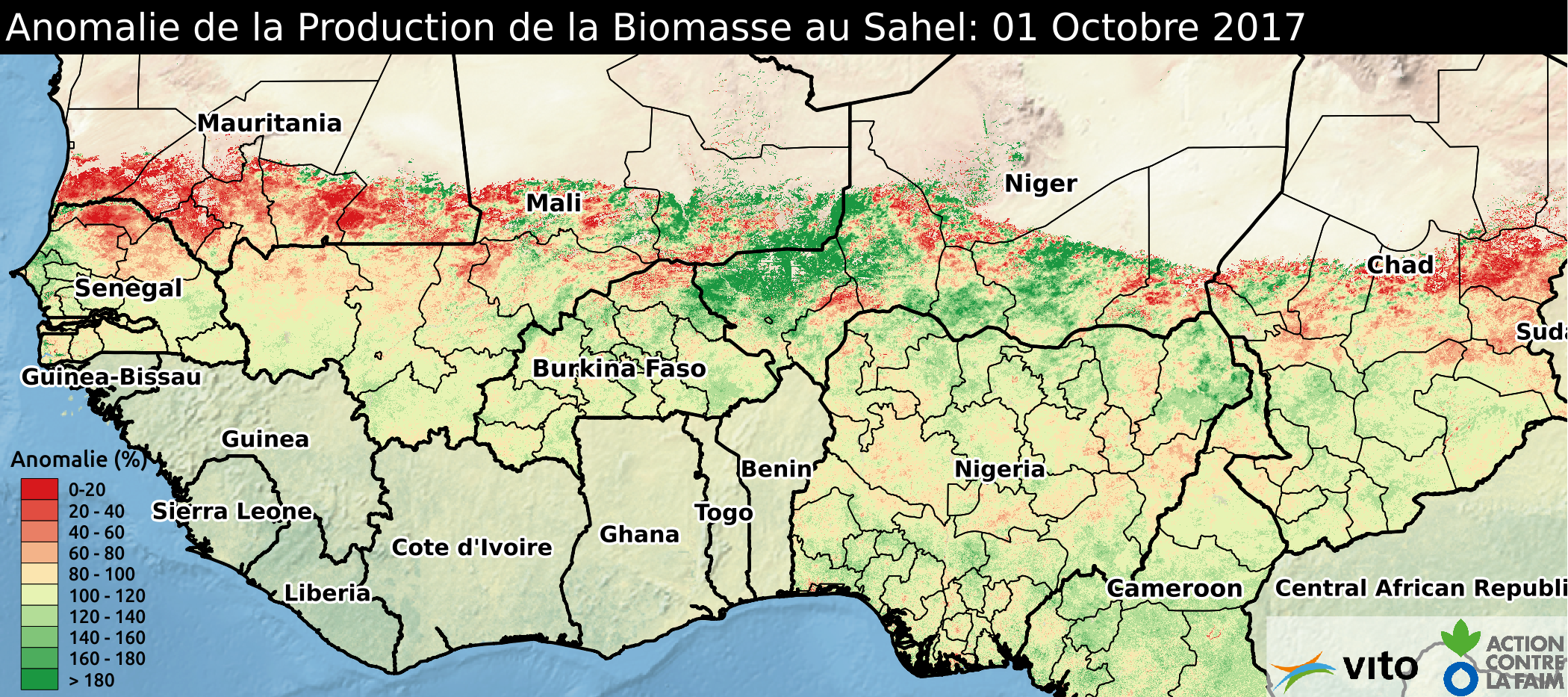 Spreading the information

The EO data is made into maps and reports that are published on our web portal, www.sigsahel.info. The data is shared with UN Agencies, NGOs, Government actors and herder organisations to help plan interventions.
The new and interactive portal provides EO data (PROBA-V, SPOT-VEGETATION, ... ) in interactive format alongside field data showing the concentrations of cattle and results of field surveys. We also publish the data in raster and tabular formats on the Humanitarian Data Exchange.
The make sure the data, maps and information is consumable for the end users, we provide trainings on how to interpret and use the data. For example, the National Early Warning System of Mali has appropriated our methods to make their own biomass analyses every year.



Benefits of EO data

The importance of this data is that it allows us to quickly assess a situation and make important predictions. Without it, we would have to rely on field measurements, which are too costly and time-consuming to do regularly across all of West Africa. As a result, ACF and its partners have access to fast information on Biomass and Water that allow us to target areas for humanitarian intervention. We have begun work with partners to provide this information directly to the herders.
To serve the cattle herders in Northern Mali, we (ACF together with SNV, Orange, Hoefsloot Spatial Solutions, Project Concern International, Tassaght (A Malian Pastoralist Organisation) and the Malian Government) set up a call center. Herders can easily contact the center to receive information on the biomass and water for an area of interest. This helps herders plan their movements. Our goal is to go beyond institutional work with humanitarian actors and democratize this data for herders all across the region.