A fully integrated service
In critical situation management, you need to know what's going on, at which location and at what time. Timely, accurate and objective information allows you to establish priorities and improve your decision making process.
The LUMEN service delivers in near-real time, local and regional geo-referenced images gathered by an medium sized drone at lower operational cost than conventional aircraft and with reduced risks to people under adverse conditions.
It is extremely interesting for the civil market to be able to provide fast and reliable information of an event or region. Governments, administrations and private companies rely more and more on geo-information. LUMEN targets a wide variety of applications in the domain of critical situation management such as flood monitoring, fire management, maritime pollution monitoring, etc…
How does LUMEN work?
The LUMEN service provides geo-referenced images acquired by a medium sized drone launched from the local ground station. With a flight time up to 10 hours, the drone can make
local and regional images within one operational flight.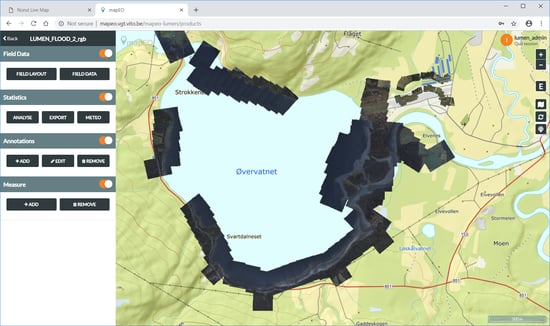 Near-real time georeferenced data visualized in the LUMEN web service
The data is immediately transferred from the Local Ground Station to the Central Ground Station where the data is immediately processed, archived and made available to the end-users via a web-services accessible over (public) internet.
Thanks to automated processes end-users are not only able to use easy to grasp enhanced imagery but can also request new or additional acquisitions to the drone pilot.
Some additional features:
The planimetric accuracy can be easily adapted to the end-user needs. this allows us

to customize the

LUMEN operation concept

without major adjustments or costs.

Thanks to the geo-referenced data extra layers can be added to view other information e.g. surface boundaries
LUMEN has a lower operational cost reducing the strain on budgets

Lower fuel consumption and limited use of materials

significantly

reduces

the ecological footprint of the delivered service in comparison with conventional aircraft
Being able to fly with an unmanned aircraft, LUMEN reduces the risk of bodily harm to the users in many difficult and dangerous situations e.g.

nuclear crisis situations.
LUMEN in real live practices
At the end of 2018, the LUMEN service was demonstrated in two specific use cases which are representative for the market and where a clear sign of interest the LUMEN service was expressed by the end-users: flood monitoring and maritime surveillance.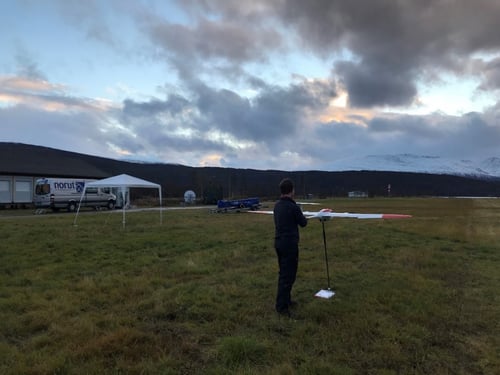 Cryowing Scout ready for take-off
To mimic a flooded area the shores of the Øvervatnet lake and the Salangselva river were overflown. The demonstration was held in bad weather condition, as can be expected in a flood scenario.
Why did we demonstrate a flood monitoring use case? LUMEN gives objective and accurate information in real time fast and efficiently. During disasters timely information is crucial. The LUMEN service can be easily integrated and facilitate interaction between the local ground station and the decision makers.
Using the LUMEN service during maritime surveillance is interesting because of the lack of real time monitoring options above seas and oceans. A typical surveillance mission was demonstrated in Norway, operating at medium altitude during day time and providing live video imagery. The main purpose of the operation was to monitor movements, behavior and actions of ships and vessels. The acquired image data was presented in a real-time video stream in the demonstration room in Brussels.
LUMEN offers an easy adjustable end-to-end solution highly requested by the end users.
Both demonstrations were organized in cooperation with NORUT (Norway), NEWTEC and AIV (Belgium). The flight were operated by NORUT.
Ready for a commercial roll-out?
LUMEN has successfully proven its value and success during both demonstrations. Especially the communication between the end-users in Brussels and the pilots in Norway was excellent.
The use of annotations in the browser application enabled end-users and pilots to communicate on geographical interest points in a clear and unambiguous way.
So why not launch LUMEN on the market? Currently legislation does not allow the use of larger drones, necessary for regional monitoring, in non-segregated airspace. Therefore, it is not envisaged to have an operational service in the coming year.
Although smaller drones have the advantage of being able to operate within the current legal landscape they are also very limited in distance, endurance and payload capacity and are therefore not able to meet the demands of the critical situation end users. Therefore, we will, in collaboration with private service providers, continue to prepare the offer of a larger drone for regional surveillance, compliant with safety regulations, to take a position in the market as soon as legislation allows.