Klik hier voor de Nederlandstalige versie
AN ADVENTUROUS JOURNEY
And what a journey it was! While going through 5 years of blogs, I am very happy with the evolutions and growth within the EO domain and proud of our experts who continue to amaze and inspire with the wide range of applications, technologies, partners and customers.
Often we see that today's problems can't be solved by one domain only. We really need multi-disciplinary approaches to solve things at hand. And sometimes, it's just easier to solve 3 problems together, instead of just 1. Being able to look one step further, and back, is always key.
On more than one occasion, at the European level, we were (and are) extremely proud of our contributions to Europe's Copernicus program. For the Copernicus Global Land Service, we developed annual 100 m maps on a global scale, including an annual detection of land cover changes ànd we work out novel approaches so nowadays you can tailor maps to your needs.
Sharing information and ease of use always play an important role in the pursuit of our team of experts.
For the Copernicus Climate service, VITO Remote Sensing is the reliable supplier of daily , objective data on the world's climate.
Of course we can only look forward eagerly to seeing all the effects of this continuous improvement of technology, data & information.
By realizing projects with the support of the European Space Agency (ESA) and the Federal Science Policy (BELSPO), we have succeeded in positioning ourselves in a top position among European EO players. We ensure that our researchers and experts remain trained and continue to power many of the cutting-edge IT technologies that are indispensable in our EO context: our contribution to the European openEO initiative ranges from flexible cloud processing and facilitating EO research with an Automated Service Builder, to ensuring the necessary knowledge and skills are available to the next generations of developers through the EO4GEO project.
from global land coverage to ship positioning
For agriculture, we evolve from global to (very) local agriculture, and then reconvert those insights into global insights, for both public organizations and a wide range of commercial players in the agri-food value chain. Think of WatchITgrow with and for the Belgian potato industry, measuring the impact on drought on global agriculture with FAO, mapping global land cover and grains with ESA, supporting agri-insurances with EO data, analysis of mm image material for seed breeders or companies producing biostimulants...
Agriculture, food security, economy, health...you and I, all benefit.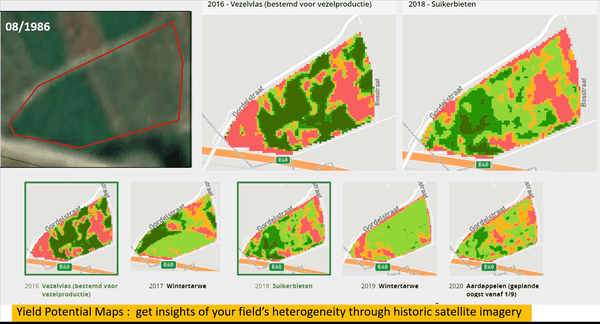 Yield potential maps: insights of your field's heterogeneity through historic satellite imagery
In the marine and maritime environment, our experts are immensely interested in, among other things, water quality. They use drones and satellites to investigate water surfaces for both the government and dredging companies. They delve into new approaches to plastic detection and mapping, as well as analysis based on drone data, with the aim of improving logistics processes and operations, as well as the environment in and around e.g. the Port of Antwerp.
Now that we are touching the domain of infrastructure, I would like to give you some ideas about how we help the Flemish government for example: assessing the solar potential to stimulate PV installation, detecting asbestos in supporting the pursuit of an asbestos-free Flanders, monitoring the Common Agricultural Policy for the agricultural department, assessing building materials to support the circular economy in the construction sector... There are countless examples and ideas of what's still possible.
And let's not forget to mention that we reach out to citizens by doing what we can to to facilitate and involve them so they can participate in speeding up the transition to sustainability.
Via the Terrascope platform we make Geo-data available to everyone, we offer a wide range of ready-to-use data, we learn citizens, governments and companies to use satellite images and EO services and integrate them into their operational activities. In the Curieuzeneuzen project we ventured on the largest citizen research ever into heat and drought in Flanders and we're happy to work with the students of De Lift who help us on data labelling in AI projects.
EO, AN ESSENTIAL TECHNOLOGY
The digital transformation of society is unfolding at a pace that outruns the development of experience-based policies for public and private organizations. This quickly creates many serious socio-economic risks. There is only 1 solution: we need to speed up technological development on digitization, data fusion and state-of-the art analysis. This acceleration can provide valuable new information and insights that enables us to better assess, plan and observe our socio-economic fabric, and - above all - make a better balance with our natural, exhaustible natural resources.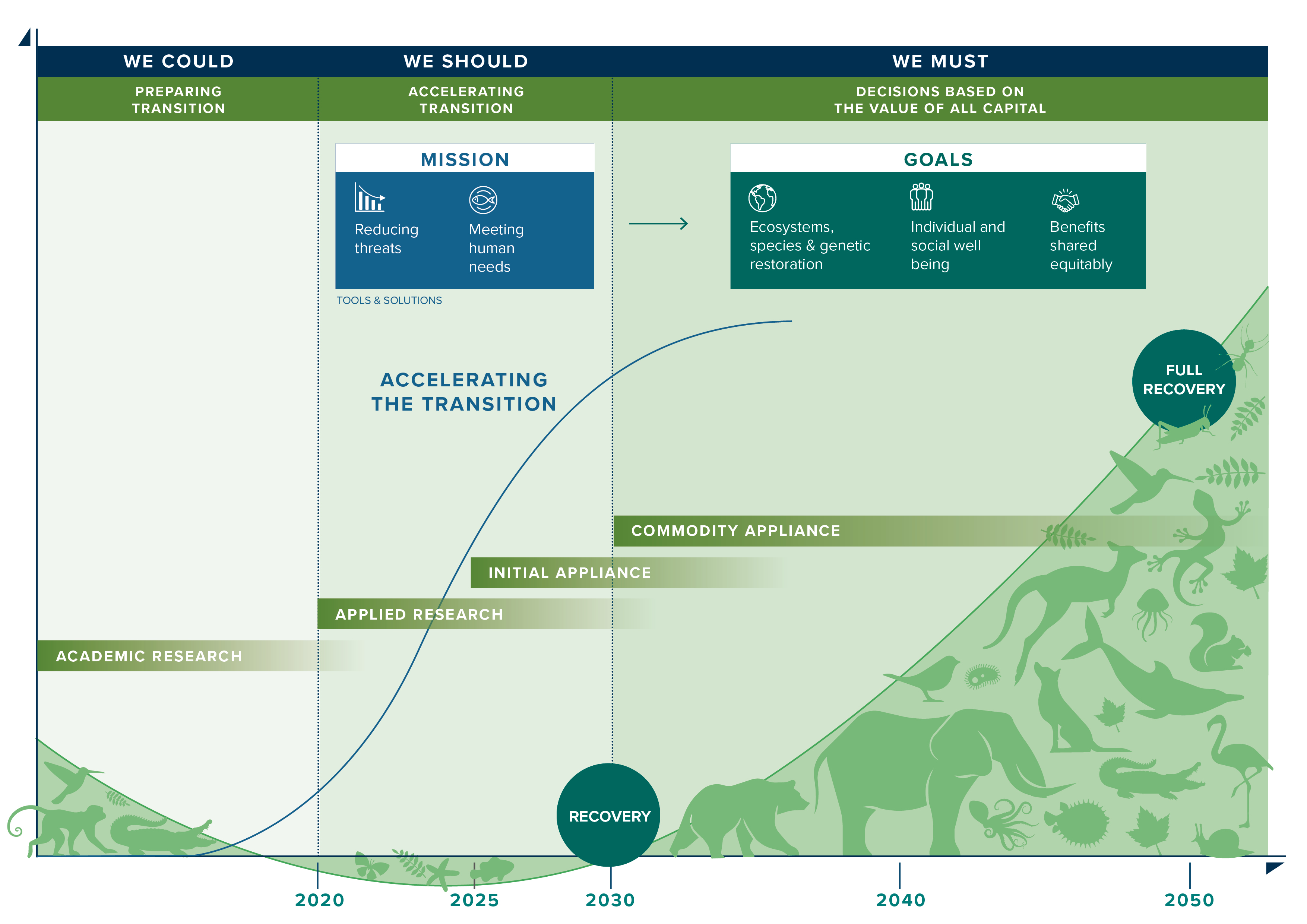 Earth Observation needs to become an essential technology in the sustainability balance, giving people and organizations the right set of data (dashboard) so they can make their own choices in their economic, environmental and social responsibilities.
Imagine that during board meetings of organizations decisions can be taken not only on economic metrics but also on environmental ones? Imagine that we list countries not only by GDP, but also by some metrics that represent their ecological wealth?
Difficult? Yes. Impossible? No!
Last years, we've been working hard on that.
FUTURE GAME CHANGERS
With initiatives like WorldCover and WorldCereal, we have been creating reference sets on land use / land cover.
By applying Natural Capital Accounting on a larger scale, we have proven that it is possible to assess the ecological value of regions at multiple levels and to really come up with 1 number that represents this ecological value.
In the Europabon projects we have shown the unique value of Earth observation in monitoring biodiversity.
With this kind of continuous and multi-level monitoring, we support public and private organizations in their search for more sustainable approaches, both in setting up and monitoring.

WorldCover viewer screenplay
let's count on space
By showing you these accomplishments and opportunities, in different domains, at different levels, with different technologies, it's clear how space technology and data can help us here on Earth... how we can count on space to realize a real impact here on earth and for us.
The exploration phase of Low Orbit is done, Organizations like ESA and NASA are now exploring the moon, Mars,... We are now in an era where we need socio-economic reasons to do things in low orbit... Taking care for our planet is for sure such a good cause!
Of course, that doesn't make exploring space any less exciting!
the largest space expo in Europe lands in... Antwerp
As we do have a soft spot for anything space related, we're supporting the exhibition "Space - The Human Quest". This unique exhibition has touched down in Antwerp and will take you into the adventurous world of space travel. From the first human in space to future missions to Mars. As a visitor you'll experience the space travel of the past, the present and the future. Space and space research are accessible to all of us!
And of course you will discover the impact of space here on earth. Don't miss it!